At the recently concluded, 86th UFI Global Congress, over 550 UFI members from more than 50 countries converged in Bangkok, Thailand, to network and gain valuable industry insights. This year's theme focused on the relevance of TRUST in our industry. UFI's new presidential leadership trio includes Mary Larkin, president of Diversified Communications USA, as UFI's 2020 President; Anbu Varathan, CEO of IMTMA (India), as Incoming President; and Craig Newman, CEO of Johannesburg Expo Centre in South Africa, as Outgoing President.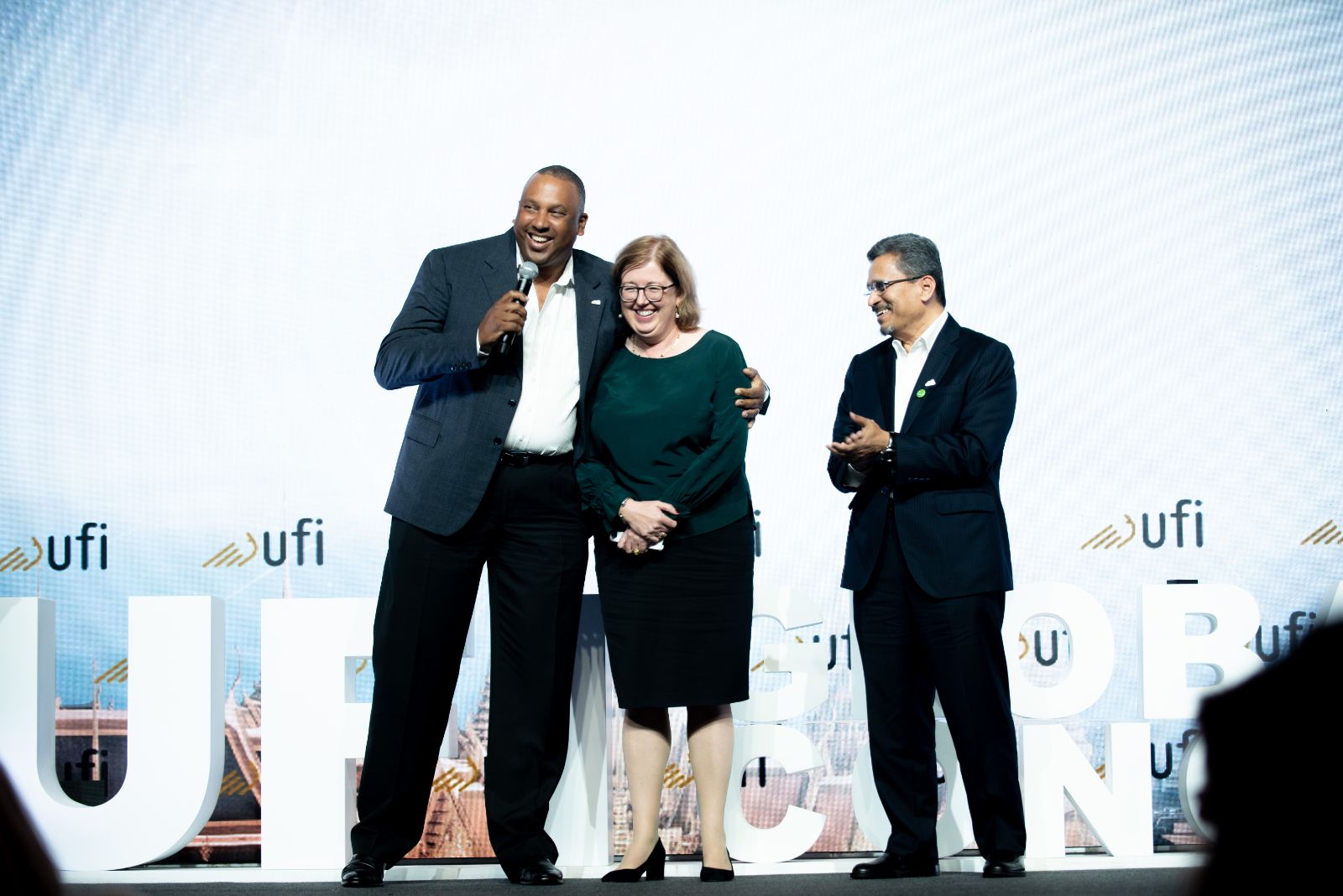 Chaired by Craig Newman, UFI's 2019 president, the General Assembly highlighted an array of new initiatives supporting the association's global membership in around 90 countries. Once again, membership has grown steadily this year and for the first time in the association's 95-year history, now exceeds 800 member companies, according to UFI officials.
"Reviewing the past 12 months, I feel proud – proud of the achievements and developments UFI has seen," Newman said. "For me, three things stand out from all the work around the world: UFI's focus on collaboration, the development in UFI's smaller chapters in Middle East/Africa and Latin America, and UFI's research work."
"This year, we have signed an agreement to take these collaborations one step further, to the global level – the Global Alliance with AIPC and ICCA," he said. "As the business models for exhibitions and conferences today overlap, we can learn from each other. Together, our future is brighter if the best global trade associations collaborate for the benefit of our members."
UFI Events Continue to Grow
In 2019, around 1,400 industry professionals attended the wide array of UFI's global events, from the Global CEO Summit in London to the Global Congress in Bangkok. Attendance grew by approximately 8 percent compared to 2018, which was also a record year. The Global CEO Summit kicked off 2019 followed by two global events, three regional conferences and two topical meetings worldwide, as well as many informal meetings and gatherings. 
Robust Global Educational Offerings
According to UFI, education and diversity in leadership are both strategic priorities for the association. After two sold-out editions of the UFI-VMA Venue Management School program in Shanghai, a third edition will take place Dec. 9-11 in Shanghai and the program will expand into South East Asia next year. 
Growing Research Portfolio Adds Global Economic Impact, Regional Latin America Report
The following research was released in 2019:
UFI and research partner Explori published a third 

Global Visitor Insights study

 covering in-depth reviews on participant expectations regarding show organizers and venues. Including data from more than 13,000 trade show visitors globally, the study was sponsored by the Society of Independent Show Organizers.

The 

Global Economic Impact

 study, covering global and regional data on the total economic impact of the exhibition industry in terms of economic output, GDP and jobs. The report was also supported by SISO and produced by Oxford Economics.

On the growing issue of sustainable development, 

The Exhibition Industry and the UN SDGs

, aggregates 20 case studies on exhibition industry projects that pay into the United Nations' Sustainable Development Goals.

A report on Best Practices in Marketing, which adds to UFI's report portfolio showcasing the winning and shortlisted entries from the association's award schemes. Each of these reports shares more than 40 respective case studies from around the world.

Two updated editions of UFI's 

Global Exhibition Barometer

, as well as the annual update on market overviews for Europe (Eurofairs Statistics) and Asia/Pacific (The Trade Show Industry in Asia).
At the Global Congress in Bangkok, UFI released two new studies:
Global Exhibitor Insights, providing global trends on exhibitor experiences and expectations at trade shows. Produced jointly with Explori, the study is based on a sample of more than 1,500 trade show exhibitors and showcases developments as well as future challenges and opportunities for the industry. 

The first-ever comprehensive overview of the Latin American trade show industry covering all markets in this fast-growing region.
Looking Ahead : 2020
Over the next 12 months, the association will continue its current strategic initiatives that include focusing on events, research, education and global advocacy, according to UFI officials. 
"We are pleased to report another year where we have been able to support our members around the world," said Kai Hattendorf, UFI managing director and CEO. "Their success is our reward, and we are happy to see that, globally, the exhibition industry continues to grow at a steady pace despite political and economic headwinds."  "With our global portfolio of events, research, education and advocacy activities, we do our part to help our community of more than 50,000 industry professionals to make the connections, get the data, and have the knowledge and recognition they need to navigate successfully through tougher times," Kai stated.
Upcoming UFI Events:
2020 UFI events:
– The annual Global CEO Summit in Rome, 5 -7 February
– Three Regional Conferences in Macau from 4-6 March, Buenos Aires from 20-21 April, and Gothenburg from 3-5 June
– The Global Congress in Muscat from 9-12 November
– Several UFI Forums: the Digital Innovation Forum in Macau on 4 March, a Forum on Sustainable Development in Paris (France) from 13-15 May, and a HR Management Forum in Gothenburg from June 2-3.